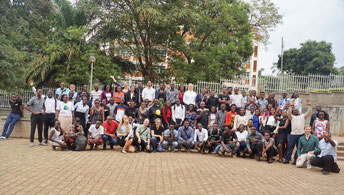 The last suitcases are packed, the post-its have been taken off the walls and every international participant has made it back home safely! What lasts is a mix of fond memories, and new ideas for everybody involved. Takeaways include (besides the souvenirs from some African craft stores) the relief of being out of Kampala traffic, a lasting taste of Matoke, and unforgettable cultural learnings. - What remains in Uganda's capital Kampala is IMPACT!
This year's event was a melting pot of minds, uniting individuals as diverse as college dropouts, incubators, and corporate professionals from Uganda - but also from India, Switzerland, Germany, the US, and Italy! Together, they embarked on a journey of innovation in FinTech, Climate Change/Energy, Agriculture, and Education. The workshop created a space where people learn from one another on eye level, collaborate, and co-create. Besides creative prototypes, Impact Week has been a place for intercultural encounters, new cultural bridges, and personal and professional impact for participants and their communities! Yet, impact can be defined in many different ways. Here are some of the more personal impact stories: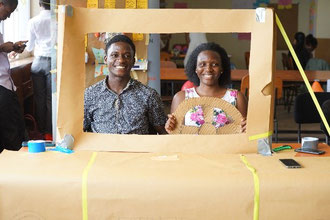 Our local Junior Coaches shared how they can bring what they have learned to their communities:
Patience Alaso, a local Junior Coach during this Impact Week and a mentor for Junior Achievement Uganda, an NGO specializing on youth empowerment in Uganda, expressed her excitement about passing on this newly acquired knowledge about Design Thinking for the betterment of Uganda: 'I look forward to sharing this knowledge with the young achievers. These are young students we find in schools, in universities, helping them on how they can build their own businesses from a process like this that we have gotten to learn from the Impact Week.'

In particular, she was a fan of what prototyping can bring to create a better life for youth in Uganda: 'At Impact Week I have learned how you build a prototype that looks like the final product. At Junior Achievement Uganda we work with young people that feel like they need to get straight to start a business without first of all creating an image that looks like the final product. Prototyping is very crucial, and I think the young achievers, the Junior Achievement youth need to understand the process of prototyping so that they clearly get to understand how the business will look like and how it will work like.'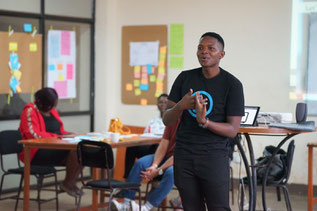 Denis Kayango, the school inspector and coordinator of a help alliance school project in Masaka, 'I am very proud of having attended this Impact Week'. 'I was excited to see that I and my students managed to go through the Design Thinking Challenge and that my students worked out a solution to a real challenge with the customer of Uganda in mind. I want to thank the help alliance for and on behalf of Masaka Deus for bringing this methodology to our project.
Lyndah and Ritah from Stanbic Business Incubator – the non-profit branch of one of Uganda's biggest banks with the mission to empower entrepreneurs throughout Uganda. With what they have learned, they have already conducted several workshops and have especially supported their young entrepreneurs with better pitch decks!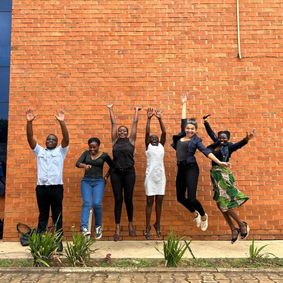 But also, our internationals could benefit from this year's Impact Week in Uganda:
Aanchal Wadhwani (LH Group)
Attending the Impact Week in Kampala, Uganda, from 23rd Aug to 31st Aug as a Junior Coach was nothing short of a transformative journey. It's impossible to express just how deeply this experience has touched my soul. Impact Week isn't just a program; it's a profound intercultural exchange of knowledge and experiences. The Design Thinking methodology we learned there is nothing short of life-altering. It has woven a tapestry of change within me, one that's now illuminated by the radiant idea of offering solutions, products, and services at my organization, Lufthansa Group. Placing the needs and desires of our customers at the forefront is the golden key to organizational success, and Impact Week unlocked that treasure for me. But what makes this experience truly magical is the ability to impart these invaluable lessons to young, eager minds. It's about instilling the seeds of entrepreneurship culture and watching them flourish. Impact Week, through its collaboration with experts, enthusiastic learners, and the vibrant youth from 14 different countries, is sowing the seeds of change on a global scale. The impact it has is not only adventurous and exhilarating, as witnessed during our time in Kampala, but it's also incredibly humbling. As I return to my job, I am brimming with anticipation to apply the Design Thinking method to every aspect of my work and share these invaluable insights with other departments within my organization and beyond. My journey doesn't end here; it has only just begun. I aspire to return to Impact Week as a Senior Coach, to give back even more to this life-changing experience. I want to extend my heartfelt gratitude to Impact Week for bestowing upon me this life-altering opportunity. Thank you from the depths of my heart.
Lars Hartmann's (LH Group) highlight was all about people uniting and empowering creativity: 'My best experience has been just seeing how within the teams that we've created people didn't know each other in the beginning and within just a short period of time they became really close, had a lot of fun together, and developed really interesting solutions.' 
Most importantly: the young people that we sought to empower could benefit from Impact Week:
Two participants could celebrate a wonderful success: they were able to win $ 40.000 USD during a pitch for one of their ideas! They attributed their success to what they have learned from their Junior Coaches at Impact Week.
As the echoes of Impact Week Uganda fade, the reverberations of change and innovation continue. From empowering young people to pursue their own ideas to revolutionizing the way you think about intercultural exchange and Design Thinking, the impact of this week has transcended borders and disciplines. It stands as a testament to the power of collaboration, cultural understanding, and the potential within us all to create positive change.