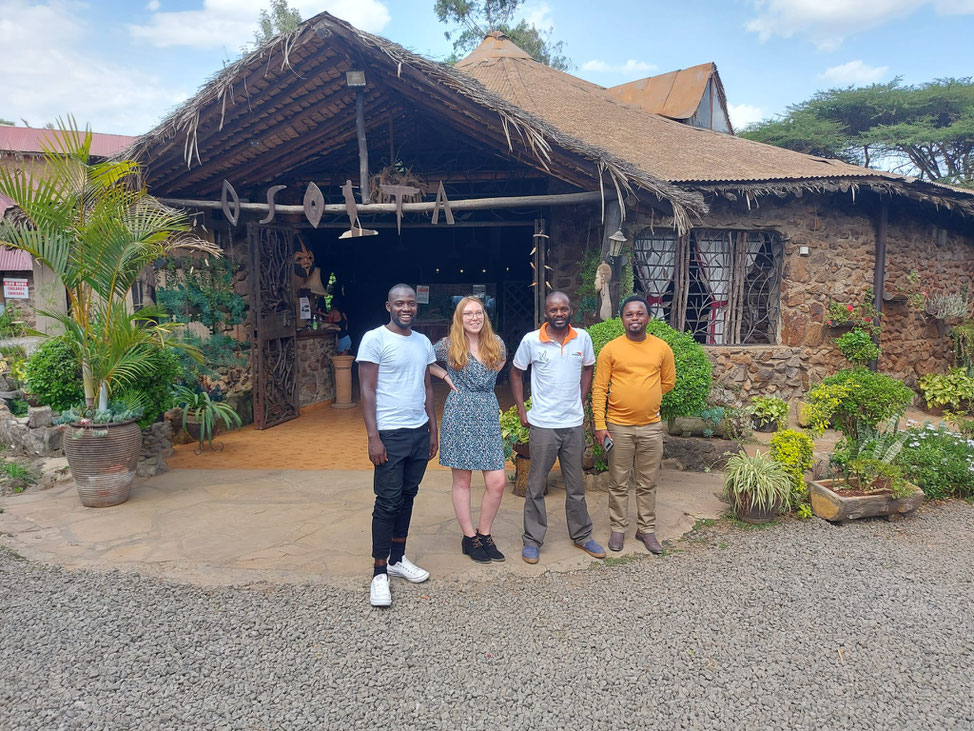 This years' Impact Week in Nairobi is the first international Impact Week initiated, organized and facilitated locally. This means that our team consists of an experienced local Lead Coach as well as 50% of local Senior Coaches and a local organizer!
Building Design Thinking expertise and sparking local innovation is at the core of our approach. When the trained coaches take matters into their own hands and organize their own Impact Week workshops/events/challenges to inspire more and more people and their way to face challenges in their personal and professional lives, we know we have made an impact. This is what our concept is all about! 
"The local ownership is what really drives sustainable innovation and we are so happy to support the ongoing journey in Kenya. We are taking the passenger seat here and are building on the partnerships and local expertise. I am eager to see what happens in this Impact Week, as every single one of them is full of this special energy and unlimited potential", says Carolin Tänzer, Lead Organizer from the Impact Week team.
This year's Impact Week Kenya will focus this special energy on eight tracks: 
Sexual Education and Empowerment of Adolescents: Comprehensive sexuality education (CSE) is necessary to ensure healthy sexual and reproductive lives for adolescents. In 2013, the Kenyan government has committed to a comprehensive sexuality education already starting in primary school. Progress has been slow, as the education system is centralized, and key stakeholders have differing opinions about how to put this declaration into practice. 
Sustainable Tourism: The Tourism sector has a tremendous potential for generating positive sustainable impact, such as improving the livelihoods of the local communities while preserving the environment and indigenous culture. 
Renewable Energy: The availability of solar-powered water pumps and solar lamps have had a life-changing effect on rural communities in Kenya, providing clean drinking water and lighting while eliminating hardships, health hazards and habits that contribute to climate change. The government's commitment to invest in clean energy has been bolstered by private companies to bring about real change, especially for those who need it most. 
Circular Economy: A circular economy is a system based on economic and industrial concepts that advocates reusing products and raw materials to maximize the restorative capacity of natural resources. Circular economy attempts to minimize value destruction in the overall system and to maximize value creation in each link in the system. Within an unpredictable tax and regulation environment, investment into circular economy is risky and the alignment of stakeholders takes time. 
Food Safety: From 2017, the conditions in arid regions of Kenya deteriorated significantly due to drought. There has also been a negative impact of floods, landslides and locust on crops, household food and income sources throughout the country. This led to heightened food insecurity, decreased health and nutrition status at a time when political instability has also increased. In 2021, a long rains assessment report indicated worsening food security, drought and nutritional situation in numerous counties. In September 2021, the President declared the drought a national disaster. On top of that, East African countries like Kenya have been heavily affected by the war in Ukraine, because a high percentage of the food imports were sourced from Ukraine or Russia.
Sustainability: Kenya is working to achieve the 17 Sustainable Development Goals (SDGs) in partnership with the UN. The total of $1.8 billion in resources are mainly focused on ending poverty (SDG 1) and hunger (SDG 2), Climate Action (SDG 13) and Good Health and Wellbeing (SDG 3). 
Inclusion: Ensuring an inclusive education system requires a multi-faceted approach: It must consider the needs of all learners equitably, while developing a diverse curriculum. The bias in the education system and in society play a key role and must be considered in the process. This is already a large challenge for a country as it is, however, the challenge grows with the economic inclusion of refugees. As one of the world largest refugee-hosting countries, Kenya is juggling both these challenges, which are addressing the same issues, for example: the political and economic barriers (such as negative perceptions) and addressing the limited job opportunities. 
Wild Ideas:  One track will be reserved to give room to all the ideas that do not fit into the frame of the other tracks.
Together with the Africa Nazarene University and its staff, our whole Impact Week Team and the coaches are already looking forward to working with our track sponsors and all participants on this vast range of local challenges. We are excited to see the ideas being built within our Design Thinking Journey and will keep you posted on our website and social channels!
Sources: 
Sexuality Education in Kenya: New Evidence from Three Counties | Guttmacher Institute
From Paper to Practice: Sexuality Education Policies and Their Implementation in Kenya | Guttmacher Institute
Sustainable Tourism in Kenya: Empowering Communities Through Collaborative Innovation - CSCP gGmbH
Sustainable Development Goals | United Nations in Kenya
Solar energy: Changing rural lives in Kenya (unesco.org)
Kenya - Humanity & Inclusion (hi-us.org)
UNHCR Kenya Livelihoods strategic plan_29072021.pdf
Circular Economy in Kenya | SpringerLink
Kenyan Circular Economy trends opportunities (rvo.nl)
Inclusive education in Kenya (unesco.org)
From Displacement to Development: How Kenya Can Create Shared Growth by Facilitating Economic Inclusion for Refugees — Refugees International
2022 Russian invasion of Ukraine – A war fought over 7000 km away but with casualties in Kenya