The need of customer service for Klinbera
Through feedback, it was clear that customers wanted a contact person to whom they could raise concerns and make suggestions. The team came up with the idea of acquiring a toll free number where customers could call free of charge. One of them will be taking the calls and providing customized attention using their customer database and making use of the location codes with which they mark the customer houses. In addition, the collectors were to collect and report any feedback to their direct supervisor who in turn would inform the customer service contact.
Leveraging their existing channels to fight Covid-19
How can KLINBERA contribute to reducing Covid-19 infections? Since the collectors retrieve the garbage every week, the team thought about training them on the prevention guidelines the Kenyan government is set to enforce. They would serve as role models wearing masks and gloves and also as messengers engaging in educational conversations with the customers. Another great idea came to life: Having the prevention guidelines printed on the backs of their uniform t-shirts.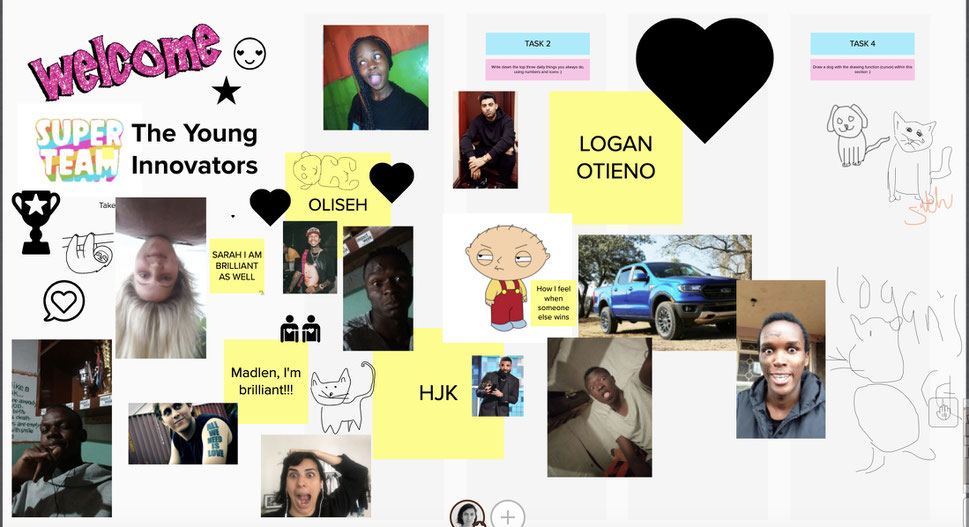 Reducing costs
In order to test Pilot 1, the team had to rent all the tools and equipment. This resulted in high variable costs, which left too little money to pay employees. For Pilot 2, they want to focus on improving their employees' work conditions by raising funds to provide them with appropriate safety equipment. In addition, buying instead of renting their tools will enable them to use this higher revenue to increase employees' salaries. 
Looking ahead to diversify
In the short future, the team is thinking of diversifying their revenue streams by partnering with recycling companies to whom they could sell some of the recyclable materials they collect. They are also working on formalising their relationship to the Caro Foundation and Nivishe, both of which are community-based organisations offering support to Kiberans in different ways. 
Perseverance pays off
"I would like to tell other youngsters that it is time for us to bring change with the wildest ideas that we have in mind". - Hillary Omuga from The Kibera Young Innovators
As you can see, there was a lot of work behind the Kibera Young Innovators' triumph in the KENYAVSCOVID19 challenge. It was not a two day effort, it was the result of months of hustling, risk taking and failing forward guided by their studies and the entrepreneurial and user-centric mindset learned during the Impact Week back in 2018. 
That is precisely the Impact Week Effect: igniting that spark for solving problems focusing on people, inspiring youngsters to take actions and building their confidence to transform their communities. It is about creating a space where people with different backgrounds and stories put their skills together to make something bigger, transcendental for communities and individuals who believe in finding innovative ways to solve the world's problems.
"With Impact Week we learn how to apply the Design Thinking process in coming up with business ideas. It makes the complex process of developing an idea very easy, understandable and most important: fun! The coaches were very helpful to us, while we had the idea in place, it wouldn't be this great without their guidance on making the business plan and following the process". -James Mugambi from The Kibera Young Innovators.