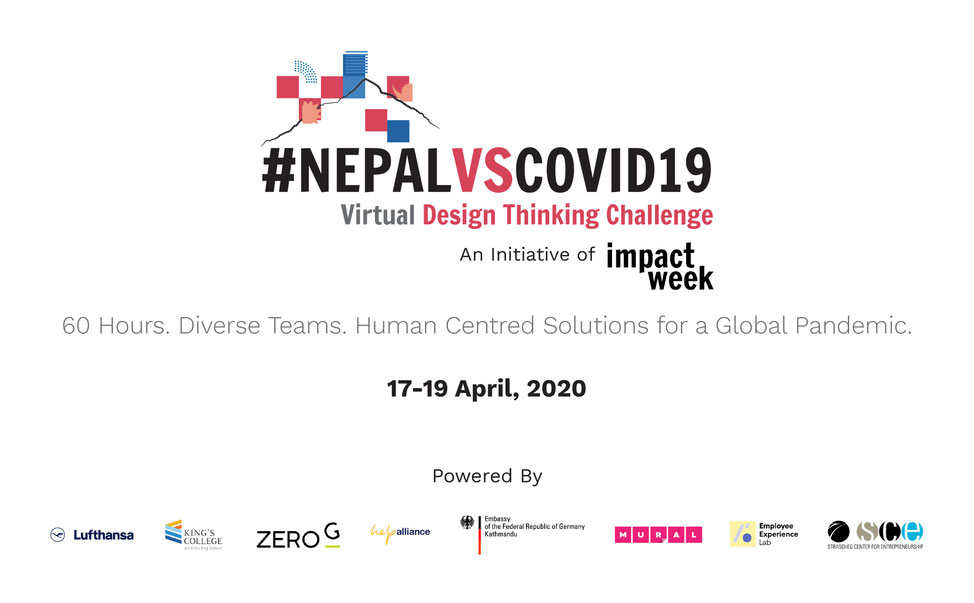 This weekend, almost 100 volunteers around the world are giving up their time to come up with solutions to the challenges Nepal is facing due to the coronavirus (COVID-19) pandemic. Over the next days, mentors and design thinking experts from Germany, Turkey, Belgium, Nepal and India will guide 54 Nepali young professionals and students around the world through the design thinking process. The entire challenge is taking place in a virtual environment, using tools such as Zoom, Mural, Slack and the Google suite.
The Virtual Design Thinking Challenge is organized by the Impact Week, in collaboration with King's College in Kathmandu, Nepal, and supported by the Lufthansa Group, the German Embassy in Kathmandu, remote-collaboration platform MURAL, Berlin-based EX Lab and independent innovation experts. Over a period of 60 hours, spanning across 2.5 days, 10 teams will have the opportunity to create a positive impact during a global pandemic. This is the first challenge of its kind, and we hope to not only create an impact through the solutions which our teams come up with, but also to set a global landmark of coping with the COVID-19 crisis.
At the end of the challenge, each team will submit a final solution/ idea in the form of a video presentation. Our panel of expert jury members will evaluate these solutions — based on their desirability, added value, implementability and comprehensibility — and the winning team will receive financial support up to €500 to turn their idea into a reality.
Find out more in Friday's article about the four focus areas for our challenges.