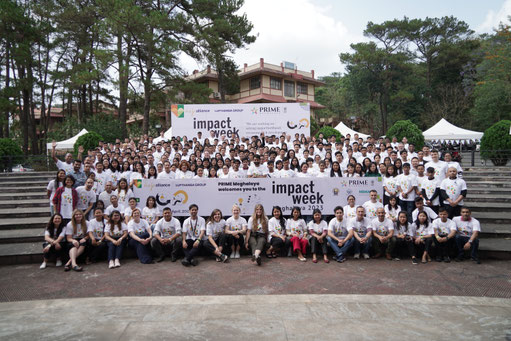 The Impact Week Meghalaya is the first on-site event in Shillong, following a hybrid workshop in 2022. Together with our partner, the PRIME hub and the North-Eastern Hill University we will create an innovative learning experience for young minds in Meghalaya. 
With our two-module approach, we will train a new cohort of Junior Coaches by guiding them through a 3-day "Train-the-Coach" phase. The first part of the workshop will take place at the PRIME Hub.
The international and local participants will then take their new role as Design Thinking Coaches and work together with the students of the North-Eastern Hill University in Shillong to find solutions for local challenges. This defines the "practical phase" and will give the new Coaches the unique opportunity to directly implement what they have just learned, while being guided by experienced Senior Coaches along the journey.
The innovative and customer-focused orientation of the Design Thinking methodology helps all participants to challenge their way of tackling a problem. The unique spirit of the Impact Week experience will definitely inspire you to look at entrepreneurship and social innovation in a completely different light.
Apply to secure one of our limited spots on the international Junior Coach Team!
With completion of our program you can call yourself "Design Thinking Coach" and become a multiplier of the methodology in your professional and private life.
Applications are now open until 12 March. 
The concept of Impact Weeks consists of two modules.
In a three-day learning phase, international innovation talents and lecturers from local universities are trained as Design Thinking coaches. During the practical phase, our Impact Week Challenge, the trained coaches apply their new skills and help students identify challenges within their respective societies and solve them using innovative business models.

Upon completion of the program, you will be a trained coach who has already applied the methodology. You'll gain key skills through Design Thinking, such as innovation, customer focus, and implementation orientation. In addition, Impact Week promotes local entrepreneurship and social innovation. We enable our local partners to apply Design Thinking themselves and run their own Impact Weeks.
Each participating team will work on one focus area. The students can choose their focus area in the application process and get matched accordingly. Then it is up to them to own the challenge and create an innovative idea to tackle it – always keeping the Design Thinking methodology at heart.
We will update the challenges once they are determined. 
The participation fee for the Design Thinking training is €2,195. The local expenses for food and accommodation are €635.
Not included in the offer are travel costs to and from Shillong, visa, vaccinations and recreational activities.
This Impact Week is scheduled in the Central European Time (UTC +5:30)
| | |
| --- | --- |
| Date | Activity |
| 13 February | Registration opens for participation |
| 24 March | Registration Closes |
| 25 March | Virtual kick-off meeting of all participants  |
| 17 April | Travel to Shillong |
| 19 - 21 April | Train the Coach: Our Junior Coaches get a professional Design Thinking training |
| 24 - 27 April | Impact Week Shillong – 4 days Design Thinking Challenge |
| 27 April | Pitch day and closing ceremony of Impact Week India 2023 |
Teams will receive details regarding exact timings of the event after registration confirmation & selection.
Impact Weeks 2023 will still be held during pandemic periods.
We have been working closely with the local partners and have developed a comprehensive protection and hygiene concept. 
We reserve the right to cancel the event on short notice depending on the COVID-19 situation in the host country.
Contact the organizing team for Impact Week India 2023:
Marketing & Communications