Testimonial from one of our local organisers
Jude del Rosario 
Junior Coach and Organizer from the Philippines
The first time I heard about Impact week, I was immediately filled with excitement and anticipation as it resonated with my dream of making a meaningful difference in the world. There's always another problem to find the solution to, and another issue we can help resolve – Impact week seemed like the perfect opportunity to bring together people and give them the chance to let their ideas be heard and be seen. With what I've witnessed in the short amount of time in this endeavor, it was all that I hoped for and even more. I wish to see more of this in the future, and I believe this could really drive true change into our lives. 
Jude del Rosario
De La Salle - College of Saint Benilde Alumni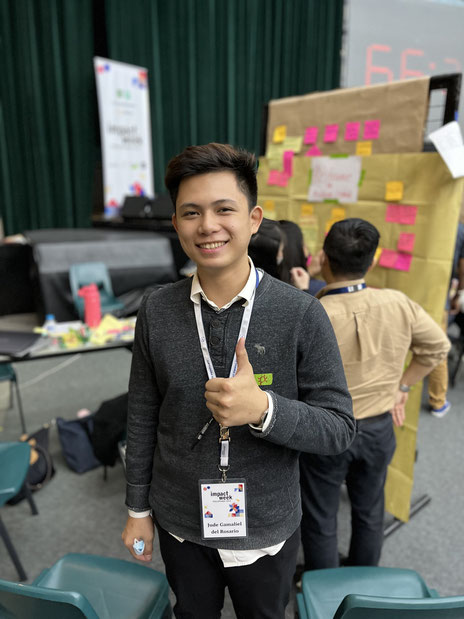 ---
Testimonials from Junior Coaches
Christine Drpich 
Junior Coach from Australia
Becoming a Junior Coach has been incredibly rewarding. I had studied Design Thinking previously to become a user of the methodology, but during my time in Manila, I was completely immersed in creativity and the movement to develop the real and local ideas of others. I was blown away by the brilliance, perseverance, and deep engagement of our students participating in the Inclusion track, and would recommend any of my fellow professionals and global citizens to join this inspiring program. 
Christine Drpich
Manager, E-Commerce Star Alliance
Tushar Chaudhari
Junior Coach from India
Impact Week is such an amazing concept to find solutions for very difficult challenges. Great solutions happen when there is cross pollination of multiple ideas from very diverse people. 
Here we got to interact not only with people from more than 15 different nationalities but also over 100 students from the Philippines. Learning Design Thinking was amazing and getting to apply it with the students to solve real life challenges was even better. 
My co-coach Christine and I were fortunate to coach Ri-An, Sarah and Donna to find a solution to make public spaces more inclusive for physically impaired people. 
Many thanks again to the organizers, De La Salle-College of Saint Benilde and Lufthansa Group for organizing such an amazing event. 
Sales Lufthansa Technik Services India
Nadia Kislitsyna-Ybanez
Junior Coach from the Philippines⁄New Zealand
I am beyond grateful for the opportunity to participate in the Impact Week Philippines 2022. 
The training and challenge allowed me to combine my passion for entrepreneurship, creative problem solving and facilitation, which I am now excited to use more in my work as an educator and consultant. 
I have been greatly inspired by learning from both the Senior and Junior Coaches with their diverse backgrounds and expertise. I am truly grateful for everyone's encouragement and guidance along the way. 
The highlight, however, was getting to work with the amazing young people in the Philippines! I was so impressed by how intelligent, open-minded and dedicated they are, and how hard their worked to come up with innovative solutions that we placed before them. 
Impact Week is a fantastic experience, and I couldn't recommend it more! 
Nadia Kislitsyna-Ybanez
Educator & Digital Marketing Consultant
John Daryll Valmores
Junior Coach from the Philippines
The Impact Week Philippines 2022 was indeed a very fruitful experience. 
Design Thinking allows me to be prepared in creating strategic and pragmatic solutions that will surely create an IMPACT! 
John Daryll Valmores
Quality Coordinator at Lufthansa Intouch
---
Testimonials from student participants
Manuel Francis Llado
Student Participant
As a student studying the Governance and Public Affairs program, it is of high value that we must be creative yet realistic problem solvers. As times shift and the world reels from the effects of the pandemic, new problems continue to emerge and affect ordinary Filipinos and their day-to-day lives. 
Impact Week has been a remarkable opportunity for students to learn the concept of Design Thinking and how to apply it in real life by creating effective programs or products that aim to solve persistent problems in today's society. My experience in Impact Week has been made better thanks to the constant collaboration and cooperation of our team and the excellent guidance that our coaches provide. 
Overall, I encourage everyone to partake in Impact Week! It is a fantastic avenue for everyone to recognize and solve issues using a holistic approach, paired with a platform to collaborate with great mentors and individuals alike. 
Manuel Francis Llado
School of Diplomacy and Governanc
De La Salle-College of Saint Benilde
Elle Espiritu
Student Participant
Signing up for Impact Week, I expected to collaborate with motivated & driven people, and that's exactly what I got. I feel fortunate to have had the opportunity to join this workshop event because I was not only able to share my ideas for our assigned topics, but I also learned a lot of new things from my peers & coaches. 
Nina Gabrielle Espiritu
Student of Diplomacy and International Affairs
School of Diplomacy and Governance
De La Salle-College of Saint Benilde
Therese Y. Tresvalles
Student Participant
Impact Week has become an avenue for me to practice my Design Thinking skills to create an impact. It also gives us a sense of responsibility to provide our values of being creative and innovative. Definitely one for the books! 
Therese Y. Tresvalles
Student of Diplomacy and International Affairs
School of Diplomacy and Governance
De La Salle-College of Saint Benilde
---
Testimonials from Senior Coaches
Dylan Sean Gruner
Senior Coach from Germany
Two weeks of Design Thinking in wonderful Manila + hundreds of new people from all around the world = an unforgettable experience + many new friendships. 
My takeaway?
Being a senior coach for the Impact Week has reinsured me once again how important and fun intercultural exchange and diverse teams are – professionally, and especially for my personal growth. 
In the train-the-trainer part of the program, we taught 42 juniors from over 15 different countries to become inspiring Design Thinking Coaches. They then stepped in our shoes and taught Design Thinking to over 100 students who worked on 7 tracks with different challenges. 
The result?
Great human-centered ideas and pitches, which solve some of the pressing problems in the Philippines. 
Learn and pass on (all while having the time of your life) – that's what the Impact Week is all about. 
Dylan Sean Gruner
Design Thinking Coach & Founder of Dream Job Studio
Şeyda Nur Günes
Senior Coach from Türkiye
Impact Week for me is the intersection of youth creativity, empowerment and cultural exchange. It's a once in a lifetime experience, in which I became a better person, a coach and a communicator in different cultures. 
The Impact Week Philippines has been a remarkable journey, where I collaborated with local people on finding solutions for the issues that affect them most, such as like natural disasters. It's really the best way of immersing to a culture while building deep human relationships and utilizing my Design Thinking and coaching skills for social impact. 
Şeyda Nur Günes
Freelance Learning Experience Designer & Coach